12 Best Brain Dump Apps for Getting Ideas Out of Your Head (2023)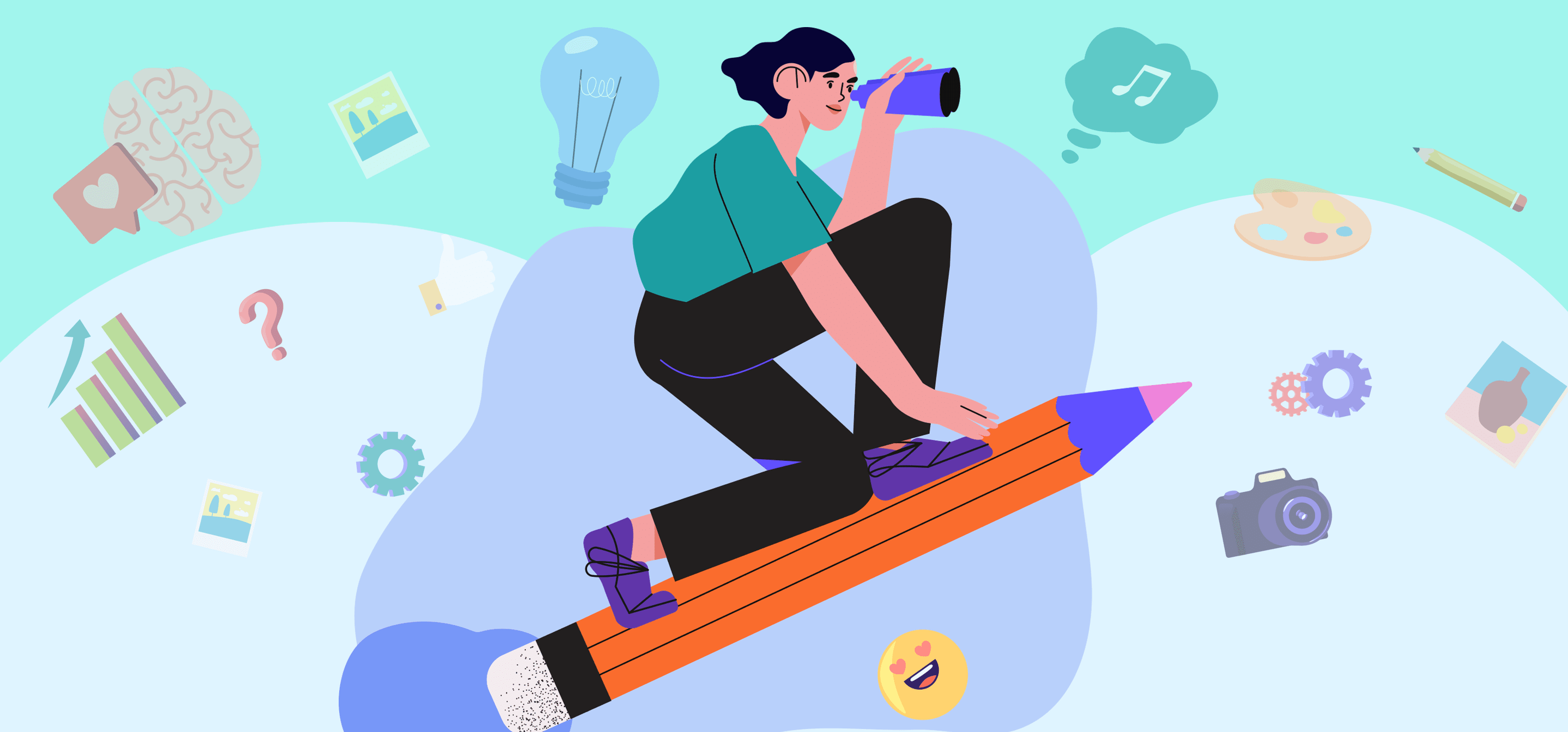 When it comes to the brain, we like to think of ourselves as limited. "I'm not creative." "I can't do the math." "I'm not a visual person."
We put these limitations on ourselves and then believe them.
But what if I told you that you are capable of so much more?
What if I told you that your brain is capable of doing things that you never imagined possible?
What if I told you that your brain is the most powerful tool in the world?
It's true.
And once you learn how to unleash its power, there's no limit to what you can achieve. One of the best ways to unleash the power of your brain is to practice brain dumping.
Brain dumping is a simple process – you take all the thoughts, ideas, and to-dos swirling around in your head and get them out of your head by writing them down.
This simple act can do wonders for your productivity, creativity, and mental clarity. And there are countless great brain dump apps available to help you get started.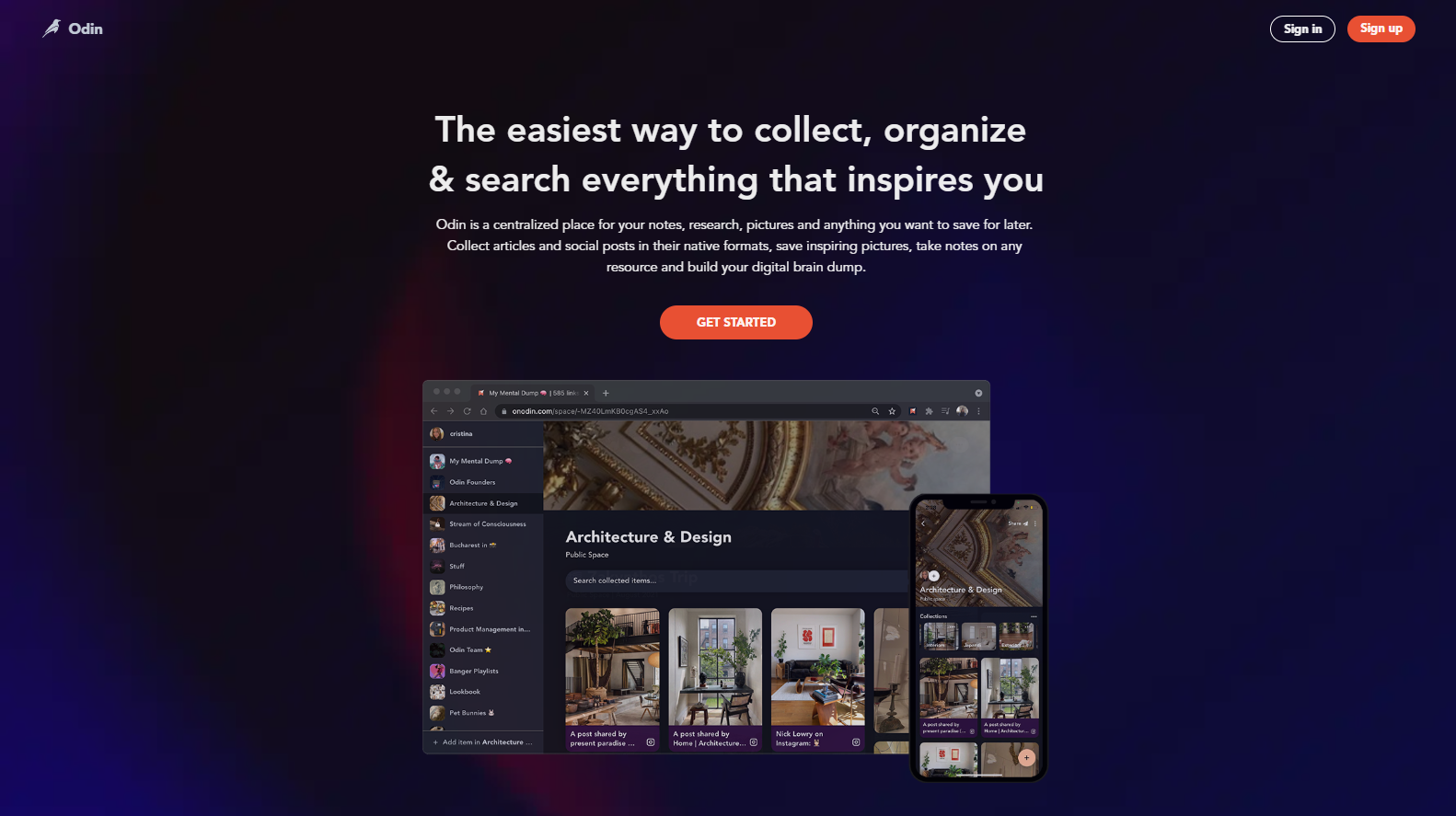 Odin is an android as well as iOS app and it is one of my favorite brain dump apps available on the market.
It has a sleek and easy-to-use interface, which makes it perfect for those who want to get started with brain dumping.
It also comes with several features such as the ability to create unlimited mind maps, add images and notes, and share your maps with others.
Odin allows you to collect everything (Omni content) you need and store it in a safe place. This is useful for students and professionals who want to keep track of their ideas, tasks, and resources in one place.
It also helps in intention consumption, meaning you can use it to filter out distractions and focus on what's important to you and come back anytime later to find what's useful.
The intelligent search feature of this app makes it easy to find anything you need quickly and efficiently.
With rich notes, you can add all the details you need to make your ideas clearer and more actionable.
If you are learning/working on something as a group, you can use the team collaboration feature to share your piece with others and work on them together in real-time.
Notable Features
Available for both Android and iOS devices
Sleek and easy-to-use interface
Collect everything and store it in a safe place
Find out historical data with advanced search
Capture anything (emails, WhatsApp messages, social media posts, etc)
Pricing
Odin is a completely free app for both Android and iOS users.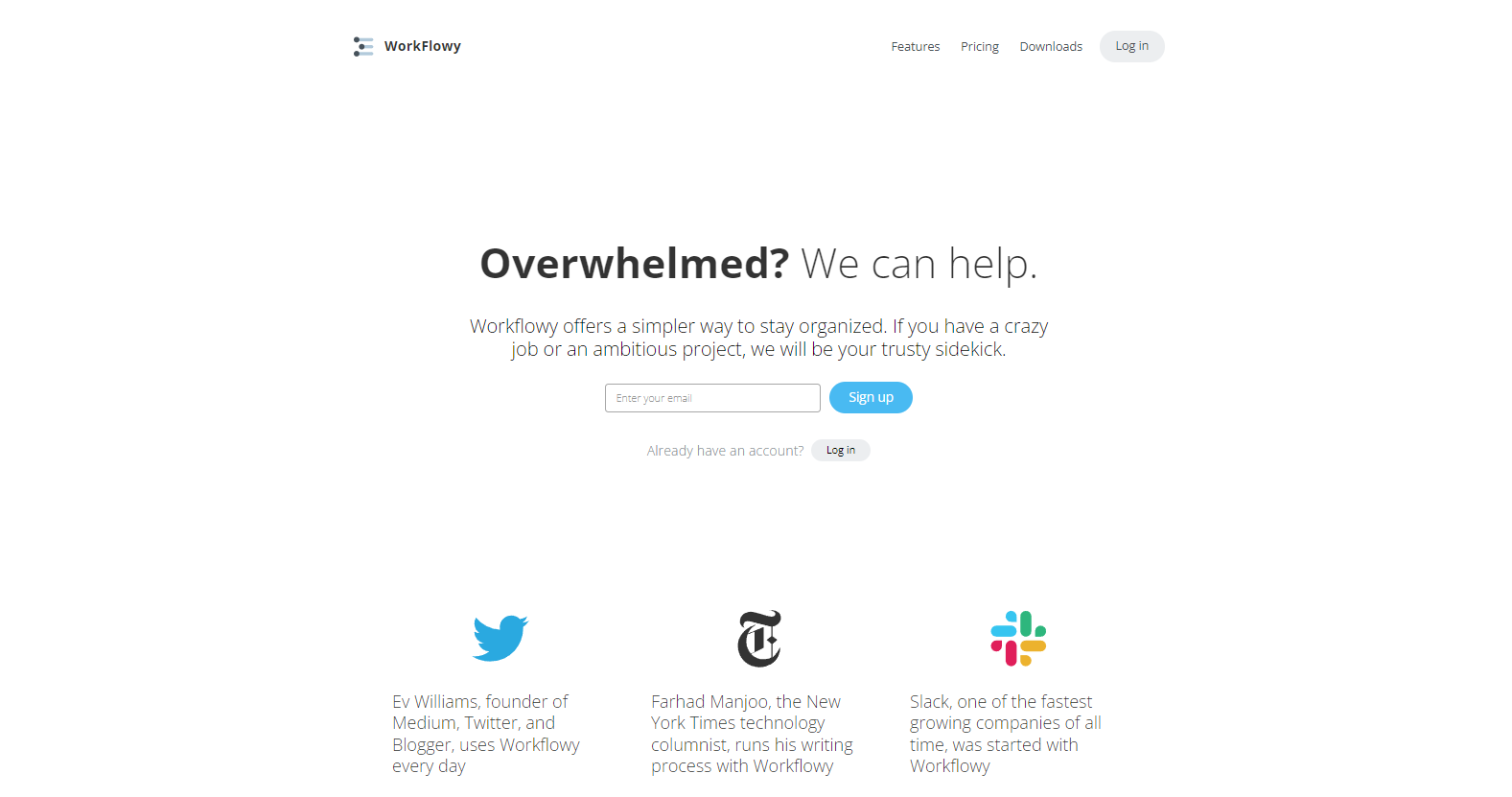 WorkFlowy is a simple and easy-to-use yet phenomenal brain dump app. What's great about WorkFlowy is that it can be used for both work and personal purposes.
You can make lists, set goals, and even create to-do lists. WorkFlowy can be accessed on your computer or phone, which makes it super convenient.
The versatility of WorkFlowy (like opening an app and starting to note things down effortlessly, dragging and dropping files immediately, all without switching between multiple applications) is worth its price.
They also have a global search feature where you can search for anything you have written down in your WorkFlowy account.
The tags allow you to cross-reference related items, and the nested lists let you order your thoughts in any way you want.
Even better, WorkFlowy also includes the Kanban boards method, which is a productivity system that helps you organize and keep track of your tasks.
And with the aid of infinite nesting, you can break down big projects into small and manageable parts.
One of my favorite things about WorkFlowy is its easy sharing features. If you share a link with someone who does not already use WorkFlowy, he/she will be able to access the viewing/editing rights without signing up.
Notable Features
Multiple use cases
Accessible on computer and phone
Includes a global search feature
Uses tags and nested lists for organization
Easy sharing features
Pricing
WorkFlowy is free to use, with limited features like 100 MB data upload capacity. The WorkFlowy Pro plan costs $4.99/month.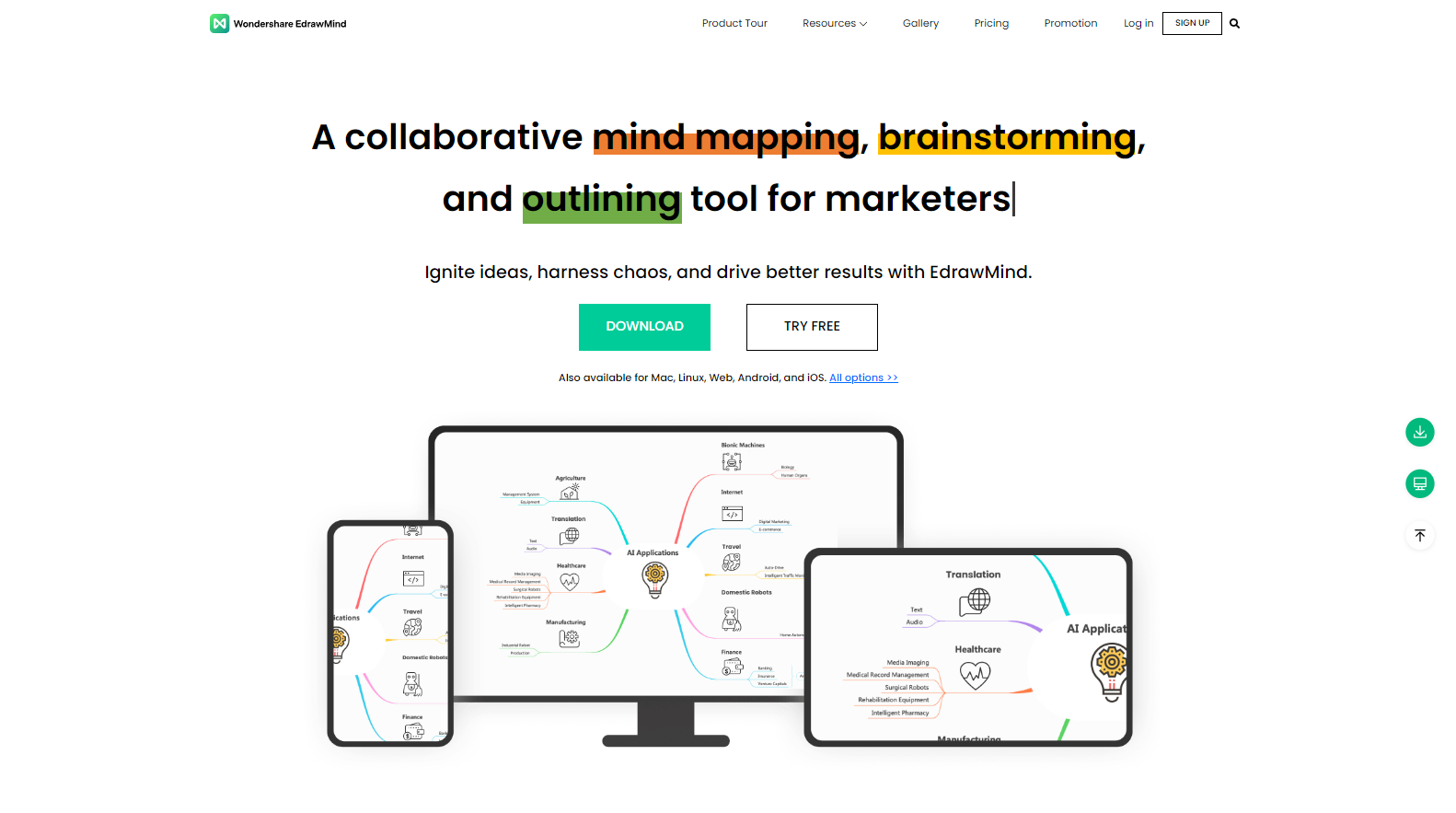 EdrawMind is software that helps you organize your thoughts and ideas into neat, easy-to-understand diagrams.
And the best part is, you don't need any prior experience with diagramming or mind mapping to use it.
Just open up the app and start dumping your thoughts into it. Then, watch as EdrawMind transforms them into beautiful, easy-to-understand diagrams.
With the sleek user interface, EdrawMind helps you create a mind map in just 3 simple steps.
Also, they have a library of pre-designed templates that you can use to get started with your mind mapping and brainstorming sessions.
And for all the design freaks out there, you get so many options to choose from when it comes to colors, shapes, and fonts.
You can quickly switch between brainstorming, outline mode, presentation mode, or even to the Gantt charts.
Secured team collaboration is also one of the reasons why EdrawMind is on our list of the best brain dump apps.
Notable Features
Beginner-friendly and easy to use
Real-time team collaboration
Password protection
Pre-designed mind mapping templates
Multiple export options
Pricing
EdrawMind offers a 15-day free trial before you commit to their annual subscription plan for individuals that costs $59/year.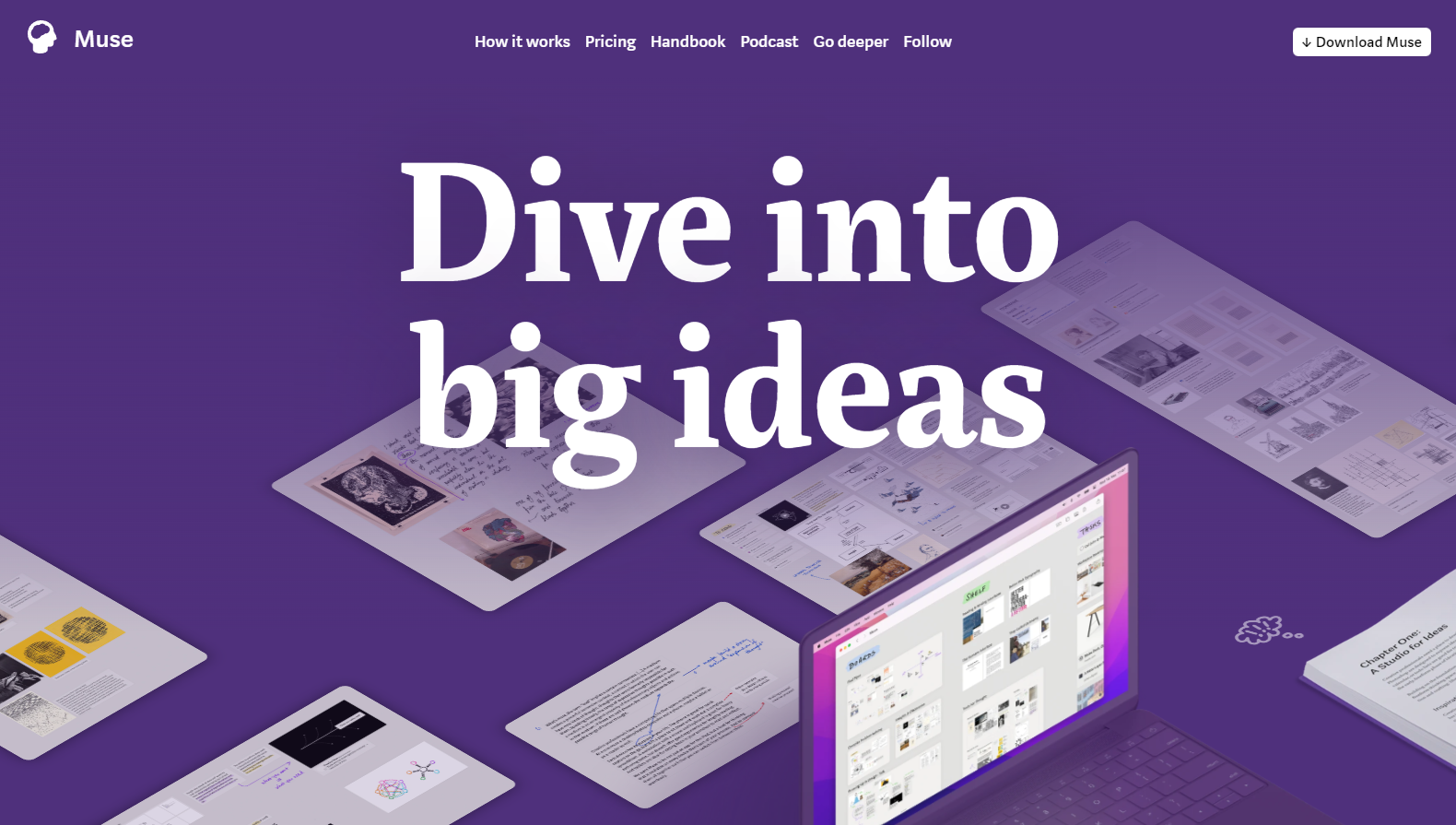 Muse is a brain dump app exclusively created for Mac and iPad users, and one of its amazing features is nested boards.
This means you can create boards within boards to help organize your thoughts better. You can also add images, audio, and files to your notes and there's a search function so you can easily find old notes.
Unlike other brain dump tools, Muse feels much more lively and interactive. It's perfect for those who prefer a hands-on approach when it comes to brainstorming and mind mapping.
The perfect mixture of text and ink notes makes it a suitable tool regardless if you're more of a visual or auditory learner.
And the best part?
You can move around any block of content – and place it exactly where you want. If you like something specific from an article or a video, you can easily embed it by taking a quick screenshot of it and pasting it into the app.
Muse workflows are so versatile and useful. Like, for example, if you want to embed a certain screenshot from your Muse database to a Twitter tweet, you can do that with just a few drags and drops.
It is perfectly crafted for iPad and Mac in such a way that it makes using the app feel natural and seamless.
The cherry on top is the app's minimalist design, which makes it look clean and uncluttered – perfect for when you need to clear your mind and focus on your tasks.
Notable Features
Minimalist design
Add images, audio, GIFs, handwritten notes, and files
Effortless device syncing
Hands-on approach
Nested boards
Seamless third-party workflows
Pricing
Muse has a Muse Base plan that is free forever and provides 100 cards with a board size of 2×2. The Starter Membership costs $3.99/month (500 cards and a board size of 6×6). And lastly, the Pro Membership costs $9.99/month (Unlimited cards and a board size of 10×10).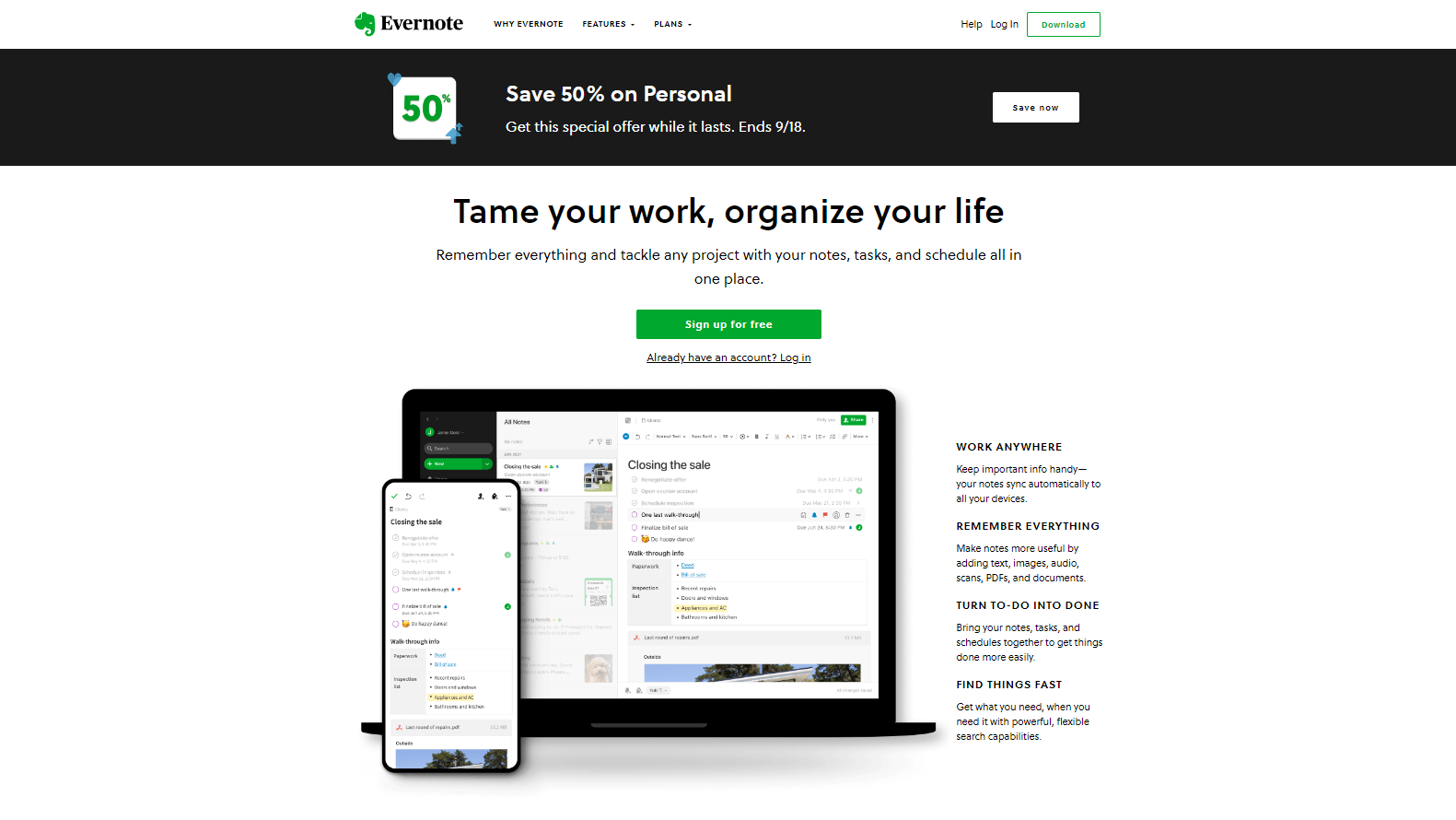 Evernote is an app that provides a digital space to "dump" all the thoughts, ideas, and tasks floating around in your brain.
It's great for quickly getting everything out of your head and into a format that you can organize and reference later.
You can create notes of all different types, including text, audio, images, and more. Plus, you can easily share notes with others or export them to other apps.
Evernote also makes it easy to search through your notes using keywords or tags. Evernote's web clipper tool is also handy for quickly saving web articles or other online content to your account.
If you like, for example, an article and want to capture the whole thing to save or share with someone later, you can just click the Evernote Web Clipper extension in your browser toolbar and it will save the entire page to your Evernote account.
Further, their document scanner feature can be used to quickly scan and save physical documents, like receipts or handwritten notes.
Lastly, all your notes are safely synced across all your devices, so you can always access them when you need to and you can always search (thanks to the smart and faster search feature) for anything you need, no matter where you are.
Notable Features
Create notes of all different types including text, audio, images, etc.
Easily share or export notes with others
Smart and faster search (searches even from handwritten notes)
Sync'd across all devices
Document scanner
Pricing
Evernote has a completely free plan. The Personal plan costs around $3.12/month, while the Professional plan costs around $3.99/month.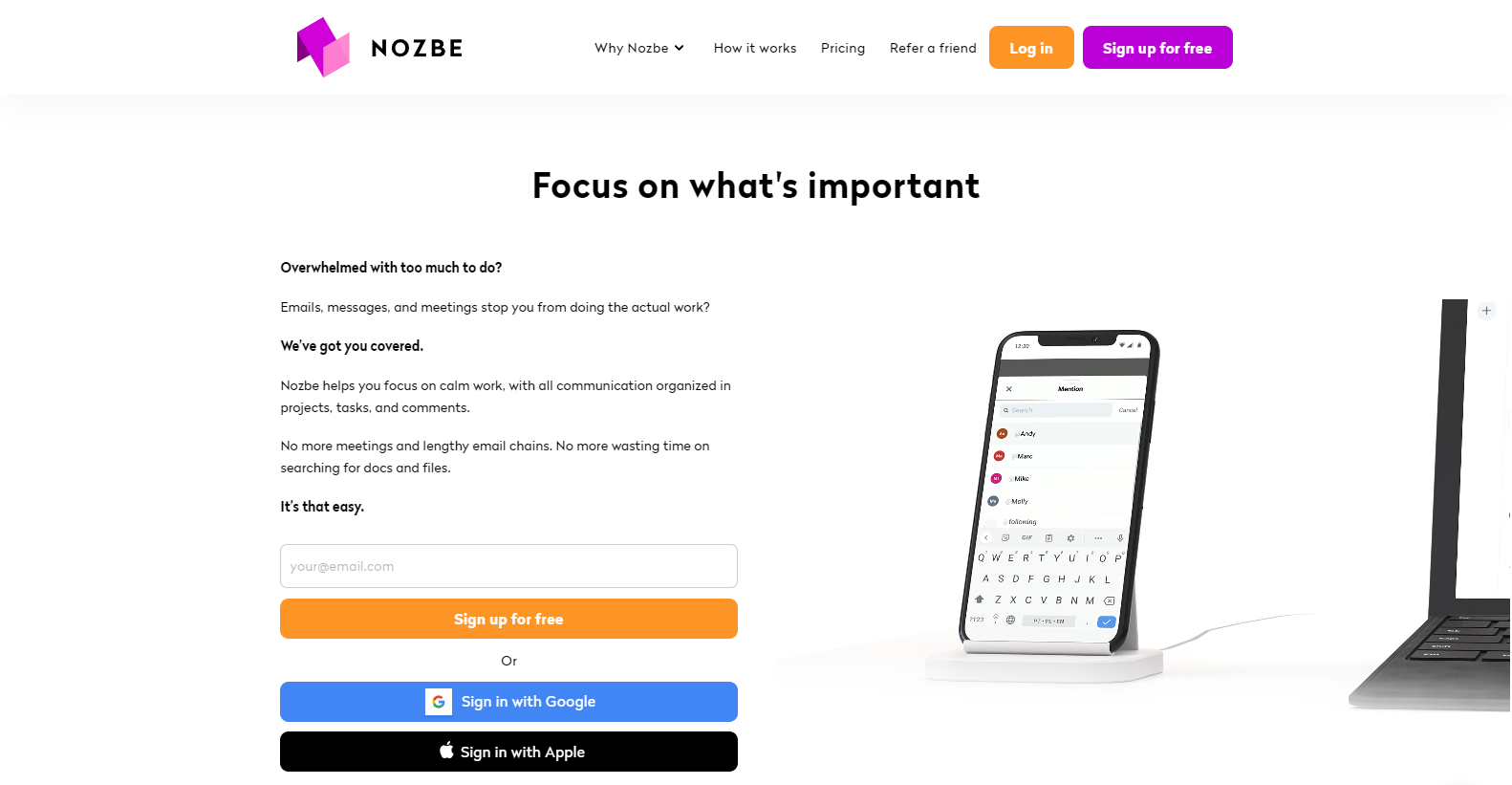 Nozbe is a great brain dump app for those who like to keep things organized. This app allows you to create tasks and organize them into projects.
You can also set reminders and due dates for each task. Nozbe also has a built-in calendar so you can see your tasks for the week ahead.
Their task management system is created in such a way that you'll never feel a need to schedule unnecessary meetings (thanks to the effective comment collaboration).
You can also prioritize your tasks, which is a great way to ensure that you're always working on the most important things first.
Nozbe also allows you to create templates for tasks and projects. This is a great way to save time when you're setting up new tasks.
With a few quick clicks, you can connect Nozbe with Google Calendar, Slack, email, and more with Zapier as well as with custom APIs.
Notable Features
Built-in calendar
Task prioritization
Custom templates creation
Available on all devices
Integration options
Pricing
Nozbe gives you a 30-day free trial and then, you can choose to go with either of their premium plans:
Solo/Duo (1-2 members, $10/month)
Small Business (Up to 8 members, $23/month)
Business (Unlimited members, $99/month)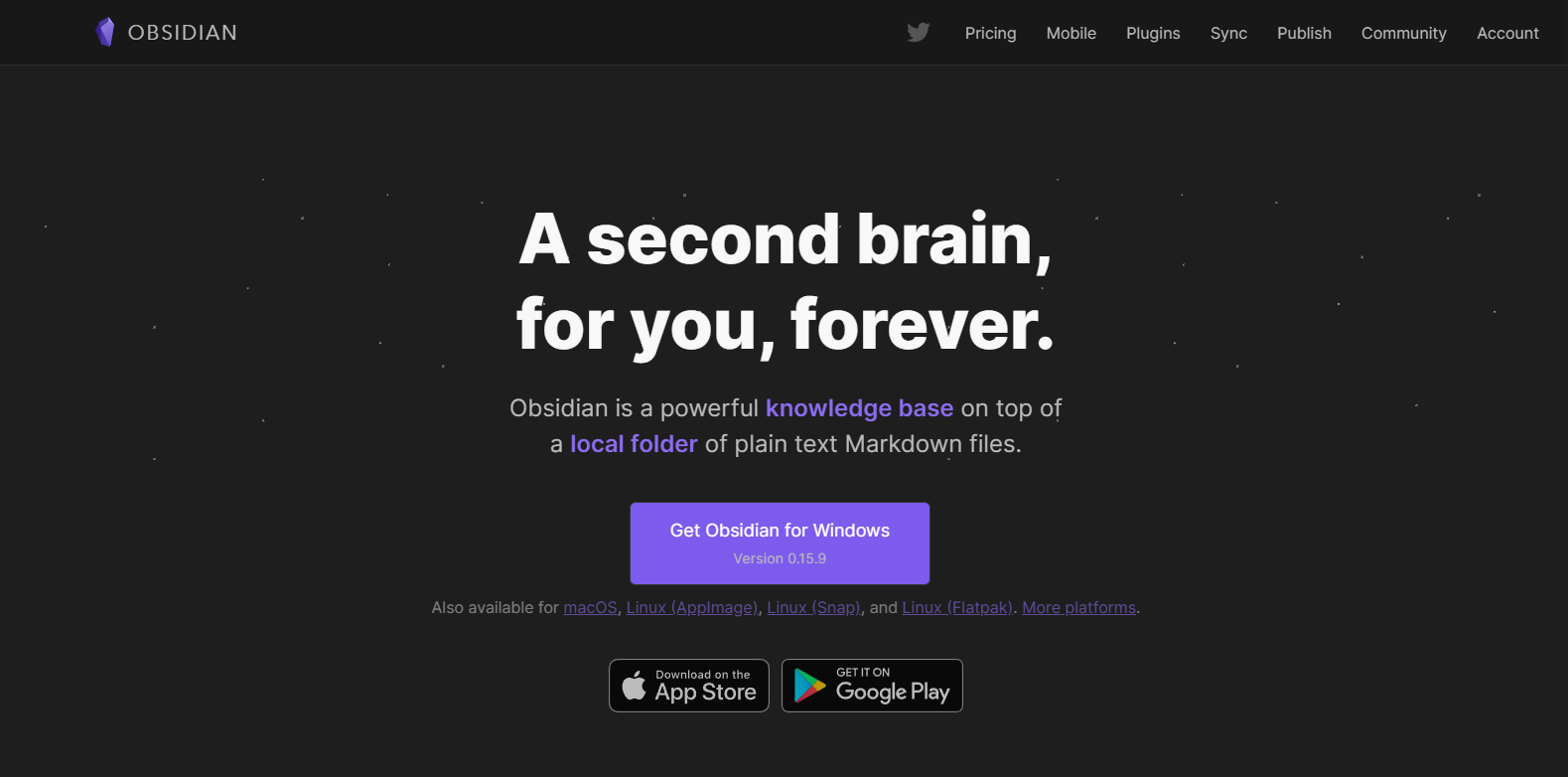 Obsidian is a great tool for dumping your thoughts and ideas.
You can use it to create text files, and it has a handy search function so you can easily find what you're looking for.
Obsidian helps you create your virtual second brain. It's great for organizing your thoughts, ideas, and knowledge. You can use it to make notes, write articles, or even create a book!
Their Graph view feature is fantastic for visualizing your ideas and connecting them. You can even export your notes as a PDF or HTML file.
If you're working on a massive project, the Backlinks feature will assist you in linking relevant pages within a click and seeing a broader picture.
The awesome part?
You have total control over your data as it is stored in a local folder as Markdown files. You can export it or sync it with other apps like Evernote, Dropbox, and Google Drive.
Notable Features
Total safety and control over your data
The handy yet powerful search function
The Graph view feature helps you visualize your ideas
Deep knowledge creation base
Pricing
Obsidian has a personal plan that is completely free to use and fortunately, it also includes community support. The Catalyst plan costs over $25 for a one-time payment and the Commercial plan costs $50/year (also get a 14-day free trial on this plan).
Simplenote, as the name uncovers, is a minimal note-taking app. If you want to keep it straightforward, then this is the app for you.
It features a clean and distraction-free interface with just the basic features that you need.
Simplenote also syncs across all your devices so you can access your notes anywhere. And if you ever need to go back and find a specific note, you can just search for it.
The tagging feature helps you stay organized and quickly find relevant notes from the bundle of notes.
And despite being a simple brain-dumping app, it allows you to share your notes/to-dos with others and work on them together in real-time.
Its time machine feature helps you go back and allows you to access any of the changes that you made in the past. This is very helpful if you accidentally delete something or want to see how a note has changed over time.
Simplenote is available on Play store, App Store, Mac, Windows, and even on Linux.
Notable Features
Clean and distraction-free interface
Syncs across all devices
Tagging feature to help you stay organized
Access past changes effortlessly
Accessible on all platforms
Cool widgets for mobile app
Pricing
Simplenote is completely free and there are no in-app purchases.
If you've ever felt like your brain is overflowing with ideas, thoughts, and to-dos, then you'll want to check out Todoist.
This app is designed specifically for brain dumping. You can quickly add tasks, set deadlines, and even break down complex projects into smaller steps.
Plus, there's a handy calendar view so you can see what's coming up next. And don't worry about forgetting something important.
Todoist can send you reminders via email or push notifications. Like, for instance, when a deadline is approaching.
Todoist integrates with countless apps, with their categories ranging from productivity to project management and automation.
Todoist also offers various templates for those who want to use them and makes it easy to share your lists with others. You can also collaborate on projects in real time.
Besides all, one of the best Todoist features is the Karma system. The app calculates how productive you've been and awards you "karma points" accordingly. It's a great way to gamify your productivity and stay motivated.
Notable Features
Task creation on steroids
Integrates with countless apps
Offers various templates
Real-time collaboration
Gamifies your productivity
Pricing
Todoist has a free plan for starters that allows you to manage 5 projects at a time. The Pro plan costs $5/month and the Business plan costs $8/month.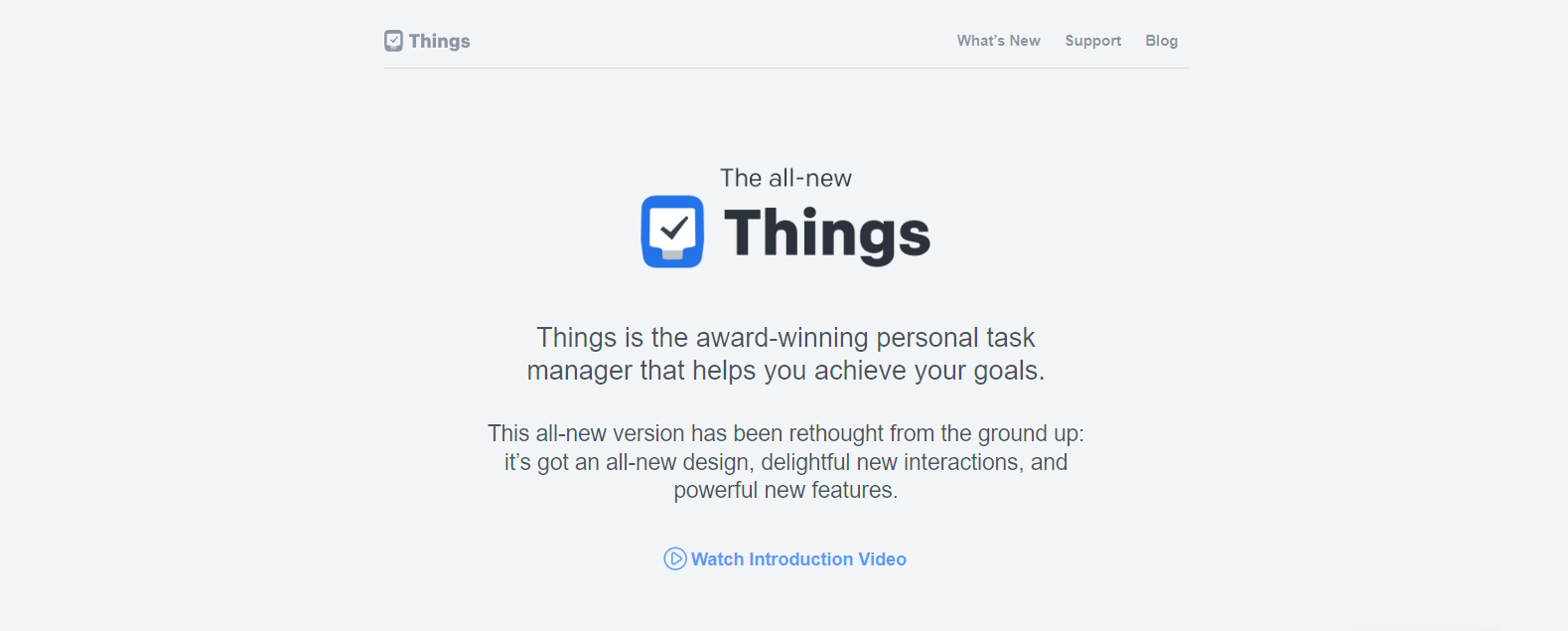 Things 3 (only for Apple product users) makes it easy to capture, track, and complete your tasks, and it even offers some features to help you with your productivity.
While it may look a little doppelgänger to Notion in terms of the user interface, it's still a great app for those who prefer to have their tasks and notes in one place.
The Upcoming section in the app helps you see what's coming up shortly, and the Today section ensures that you never forget what needs to be done today.
You can also create different projects and add tags to your tasks to make them easier to find and organize.
Plus, the integration with Siri means that you can easily add tasks or check your to-do list without even opening the app.
With the Slim Mode feature, you can also declutter your interface and make it look less overwhelming.
Things 3 includes all the content blocks you need to brain dump like a pro, including checklists, headings, and even code blocks.
Last but not least, the progress pies help you visualize how much progress you've made on a task, which can be motivating.
Notable Features
Clean and user-friendly interface
Progress pies help you visualize your task completion
Siri integration for hands-free task management
Slim Mode declutters the interface
Available on iPhone, iPad, and Mac
Pricing
Things 3 app costs $9.99 as a one-time fee.
11. Best Brain Dump Apps for students
As a student, you are always bombarded with assignments, projects, and exams.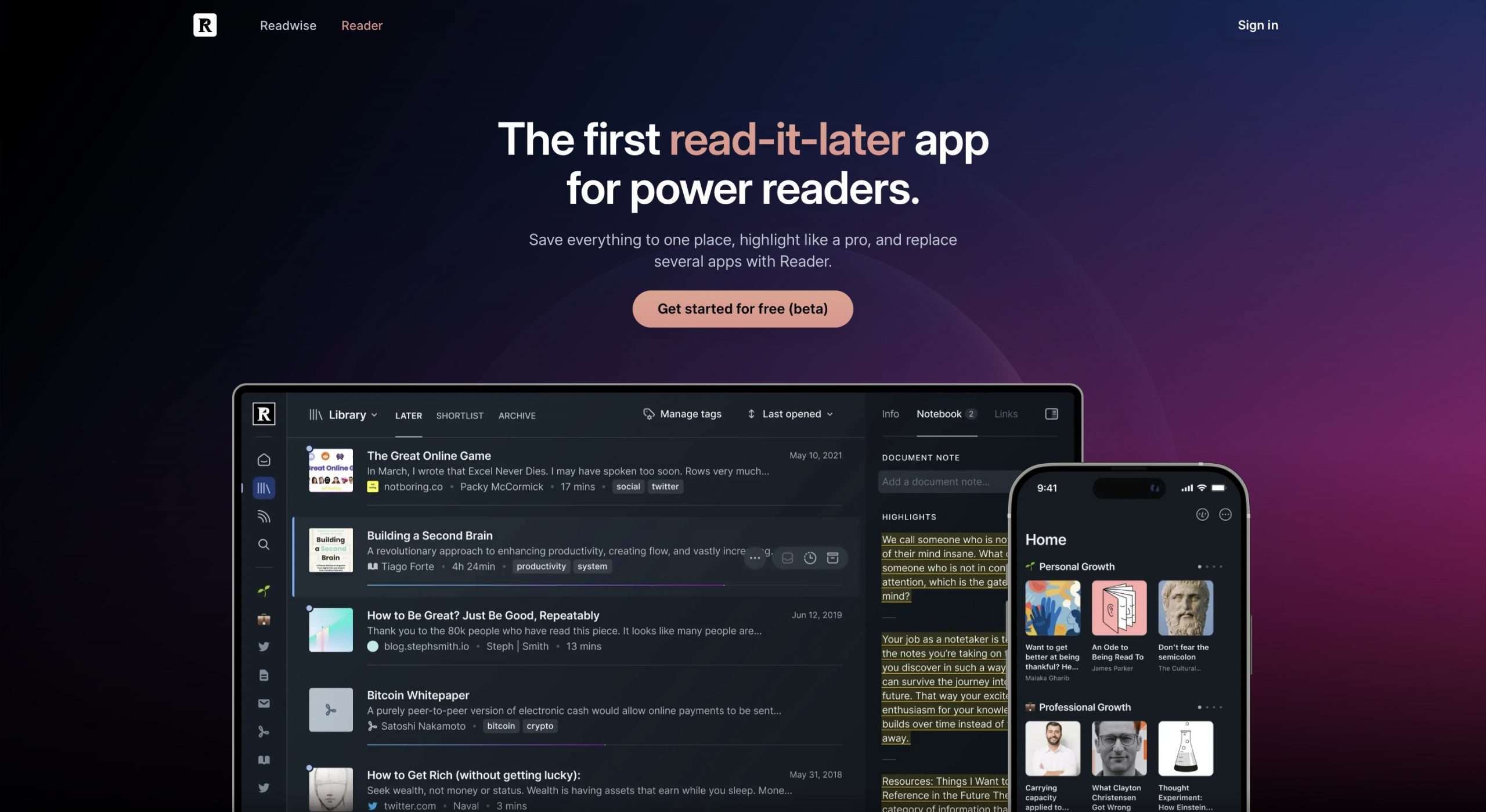 Reader is a relatively new app by Readwise that takes your reading experience to a whole new level.
Available on almost every device, Reader does everything from highlighting any content text on the web and highlighting Youtube transcripts to allowing you to annotate on the go.
It also enables you to easily subscribe to your favorite newsletters from the App itself so that you don't have to waste time browsing your Gmail app for the same.
Moreover, if you feel a certain blog post is a buggy due to various advertisements and popups, you can choose to read that article later by saving it in Reader.
Additionally, the keyboard-based reading saves you time as you don't have to access the mouse for every little task.
Along with all this, Ghostreader makes the Reader app so much awesome. It is equipped with GPT-3 powered natural language processing technology and reads out any text to you plus more.
Lastly, if you don't feel like reading anything, their text-to-speech technology is also available which makes it even easier to consume content.
Notable Features
Highlight and Annotate on the go
Read articles on cleaner interface using by saving them on Reader
Keyboard-based reading
Ghostreader with GPT-3 powered natural language processing technology
Text-to-speech technology.
Integrates with third-party tools
Pricing
Readwise Reader offers a 30-day free trial and then a paid plan that costs $7.99/month.
12. Voice Notes
If you like to record your thoughts as you have them, then you can use any voice notes app to do a brain dump.
Voice notes are great because you can capture your ideas as they come to you, without having to stop and type them out. You can also listen to your voice notes later if you want to review your ideas.
There are a lot of different voice note apps available, so choose the one that works best for you (Try Otter.ai).
The only problem with voice notes is that they can be difficult to organize. So, if you do use this method, make sure to transcribe your notes and put them into a more organized formats later.
Watch how Charlie Puth uses voice notes to make mega hits:
Final Thoughts
We hope you've enjoyed this roundup of the best brain dump apps on the market.
Whether you're looking for an app to help you take notes, capture ideas, or simply get your thoughts out of your head and onto paper (or a screen), we've got you covered.
These apps will help you increase your productivity, and they're all available on a variety of platforms.