12 Best Staff Holiday Management Software & Platforms (2023)
Staff holiday management software helps you digitalize your employees' leave request processes and keep track of their time-offs and vacations.
With its centralized dashboard and automation tools, you can get rid of those tedious spreadsheets and automatically calculate your annual leave and PTO.
It's a time-saving app that reduces data errors and makes your job incredibly easy.
In this article, I have covered the 12 best staff holiday management software products that offer attractive features and pricing plans.
Explore the reviews to see what these apps can do for you.
What is a Staff Holiday Management Software and What Features to Look for?
Staff holiday management software provides an interactive calendar to create an employee vacation planner and approve leave requests directly from the dashboard.
The app typically comes with a self-service portal, allowing your staff to submit time-off requests and self-manage their leave balance, eliminating the need for manual paperwork.
Some Top Features to Look for In a Staff Holiday Management Software;
Calendar Integration.
Approval system.
Leave policy customization.
Reporting.
Let's check out the list of staff holiday management software products I've compiled for you. I have included both exclusive and general HR applications to offer flexible options.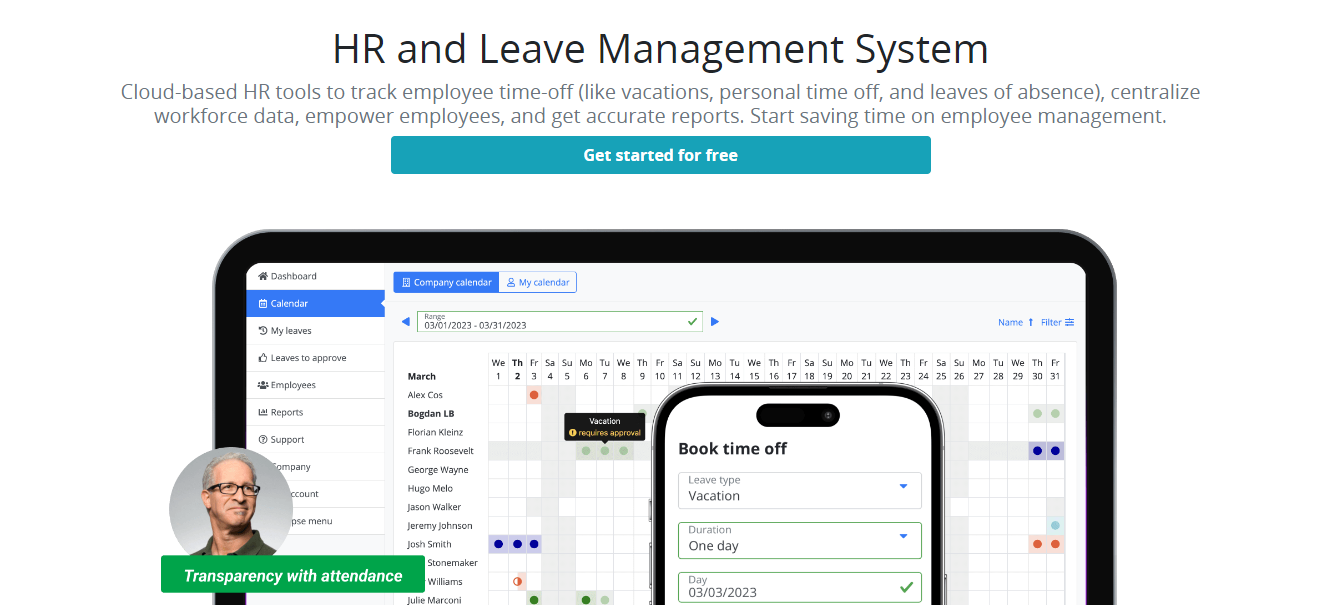 Leaveboard offers a staff holiday management solution for small and mid-size businesses.
You can customize the settings to implement your company's custom vacation policies and build a shared calendar to track employee time off.
The app has some powerful administration functions. You can automate your workflows, assign leave approval authority to departmental heads, and set permission access to control data visibility.
Your staff can check their leave balance and book sick leave and holidays from the employee portal. Anytime you approve a time-off request, the data is automatically updated, so you won't have to manually log everything.
If someone picks a date that another team member has already reserved for holidays, Leaveboard immediately sends the alert. This saves you from manually comparing each team's schedules to approve and decline requests.
Core Features
Vacation tracker.
Shared calendar.
Customization.
Self-service portal.
Employee directory.
Reporting.
Integration with Google, slack, and Office 365.
Price
Leaveboard charges $1.35 per user. You can add up to 9 employees for free.
Timetastic offers a simple and aesthetically pleasing planner. The software delivers a central live wall chart and approval options to easily manage staff holidays.
Via the dashboard view, you can see who's scheduled to take a vacation, who has asked for time off requests, and how many are planning to take the leave of absence.
Each team member will have their individual calendars to manage their annual, sick, and mandatory leave.
With quick actions, you can approve and decline time off requests and automatically send notifications to your Slack account.
One of Timetastic's amazing features is its labeling. You can label leave types with different icons to make them recognizable. While you can, of course, use color coding for this purpose, the icons make the information more visible and fun.
Core Features
Shared wall chart.
Request approval.
Labeling.
Personal calendar.
Automation.
Slack and Google integration.
Price
Timetastic charges $1.30 per user.
You can try it for free for 30 days and extend the period if you need more time to make your purchase decision.
Leavedates is a basic cloud staff holiday management platform. With this tool, you can process leave requests and keep an updated record of your staff's vacations.
Employees can access the software from their smartphones and book their desired dates on the calendar. You can look up other team members' calendars to compare schedules and approve leave applications from anywhere.
Through system customization and third-party integration, you can adjust leave policies and sync the data with Google Calendar.
Overall, it's well-suited for small businesses.
Core Features
A shared attendance wall.
Approval system.
Reporting.
Customization.
Google Calendar and Outlook connect.
Self-service portal.
Desktop, tablet, and mobile support.
Price
Leavedates has a flexible payment model. You can add five users for free and pay $1 for each user onwards.
The minimum monthly subscription cost is $6, and the maximum is $160.
Vacation Tracker allows you to create a tailored staff holiday management system.
You can add multiple departments in your planner to separate teams into groups, implement different leave types, integrate Slack for messages, and set daily notifications on autopilot.
Your employees can view their leave status, request days and hourly time-offs, and forward unused vacations to utilize them next year. You'll have full control over the leave management policies, enabling you to add and remove any option.
With permission roles, you can delegate your work and let the team leads handle the member's vacation requests.
Core Features
Leave calendar view.
Approvers.
Custom workflows.
Automation.
Reporting.
Labeling.
Slack, Google, and Microsoft integration.
Price
Vacation Tracker charges $1 to $2 per user. You can try it for free and ask for a custom plan.
Attendancebot is built for hybrid workspaces. It allows you to create a flexible work schedule for your staff and keep track of holidays.
Some of the functions you can perform with Attendencebot include shift planning, time tracking, absence recording, and TOIL management. You can build daily, weekly, and monthly shift calendars, approve and decline time-off requests, and let employees take leave of absence for working overtime.
You can also implement a hotdesking work model and set up approval workflows to handle dynamic work schedules.
With Slack integration, you can easily communicate with your staff and keep everyone updated.
It's an incredibly versatile and user-friendly app.
Core Features
Leave management.
Time tracking.
Employee scheduling.
Multi-level approval workflows.
Automation.
Hybrid calendar.
TOIL management.
Slack Integration.
Price
Attendancebot's per-user prices range between $4 and $8.
You can add up to five members for free and take a free trial to test premium features.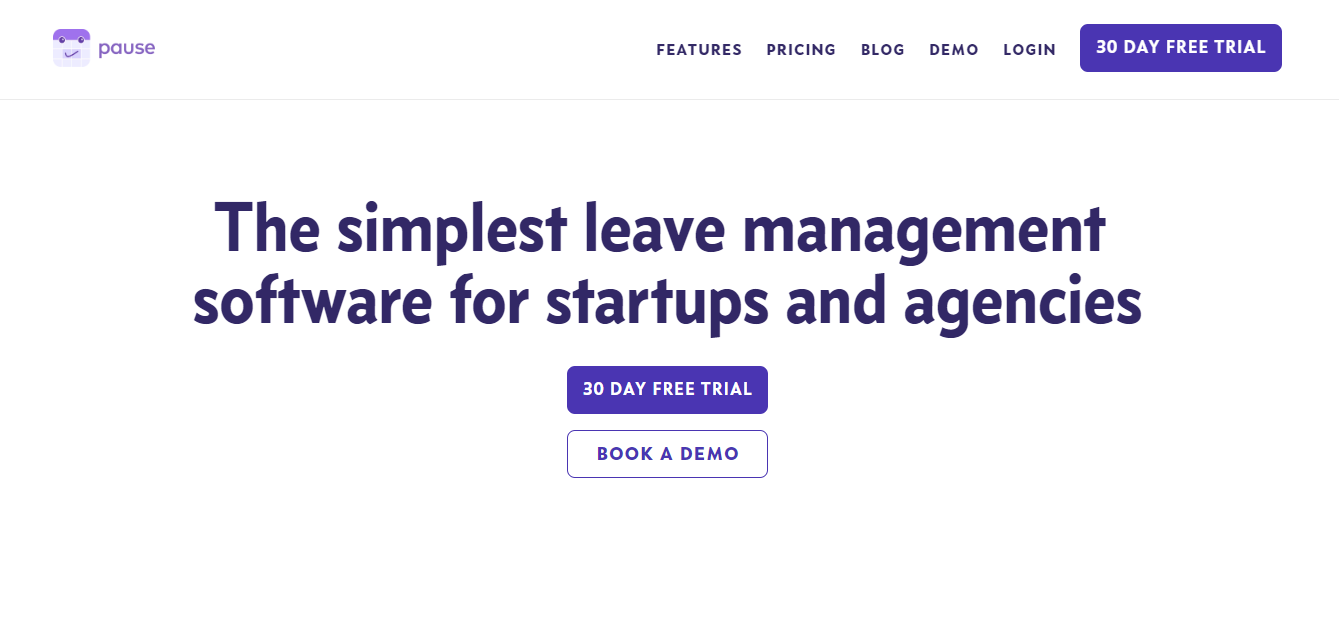 Pause lets you manage your staff's holidays from your Slack account.
Here, you can build teams and appoint approvers, assign different icons to identify leave types, and set up public holiday alerts.
With simple commands, employees can log breaks, take half-days, request vacations, and check their remaining annual leave status.
You can see a summary of upcoming holidays and approve and decline leave requests accordingly. If your work involves tight deadlines, you can set specific dates for mandatory work, so your staff can avoid taking day-offs on important days.
Core Features
Custom leave policies.
Public holidays alerts.
Leave overlap monitoring.
Multiple approval system.
Automation.
Labeling.
Slack integration.
Price
Pause charges $1 per user. You can take a 30-day free trial to test the app.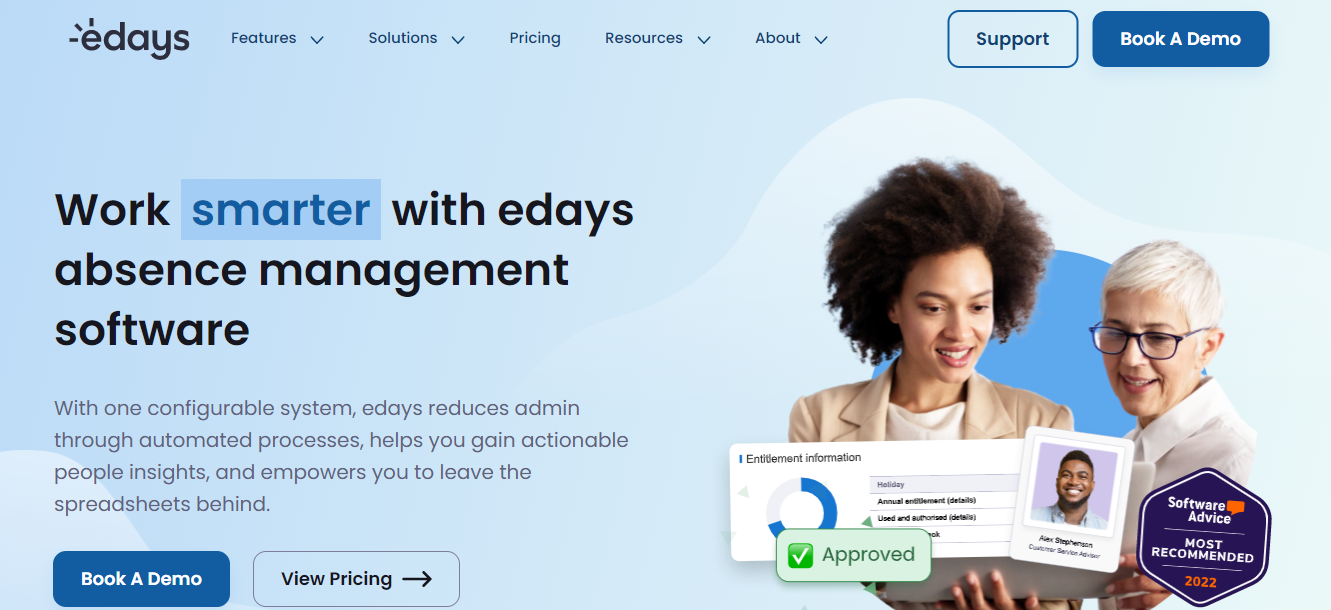 E-days is best for companies with 50+ employees.
It's an advanced absence management software through which you can record staff leave and oversee bookings and TOIL.
With its self-service portal, employees can submit holiday requests, log overtime, and view colleagues' calendars to compare their holiday schedules. For project-based jobs, you can set a limit on working hours and enforce mandatory breaks to avoid burnout.
With the reporting dashboard, you can easily keep an eye on your teams' working trends and get a breakdown of each employee's holiday patterns.
Core Features
Holiday booking system.
Leave and working hours tracking.
TOIL management.
Employee database.
Interactive reports.
Third-party integration.
Self-service portal.
Mobile app.
Price
E-days prices start from $1200. You can book a demo to learn more about it.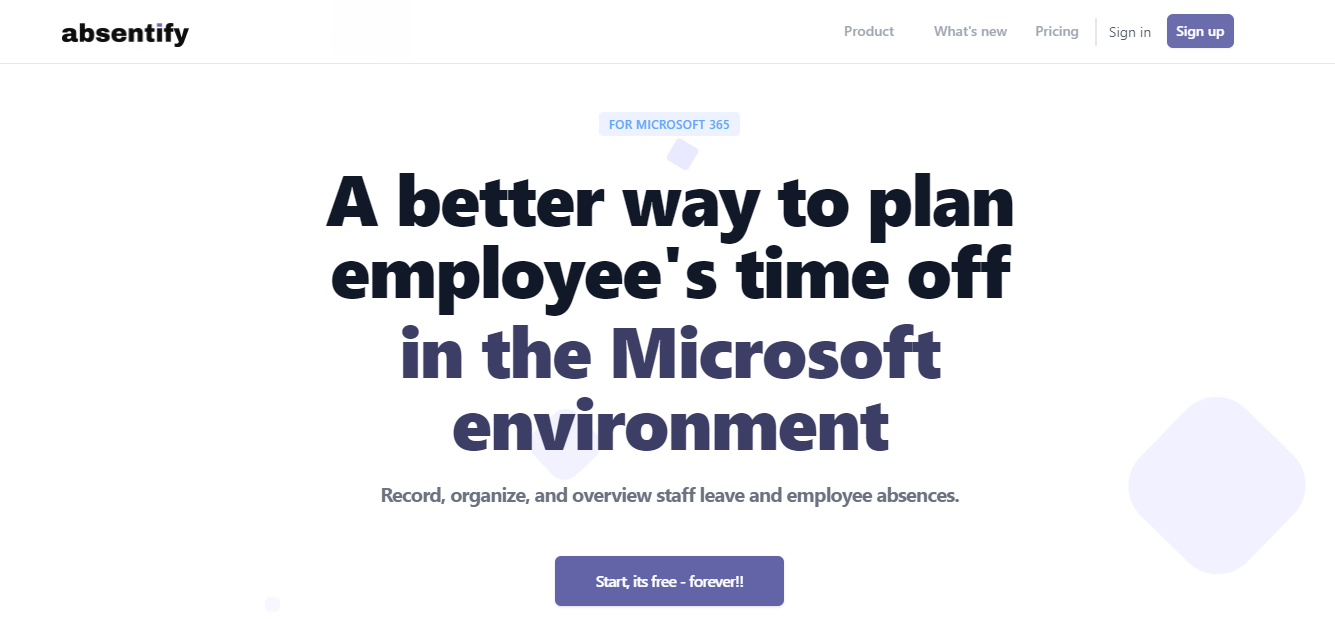 Apsentify is ideal for those who use Microsoft Teams. It is a web-based software that enables you to manage your staff holidays from your Team App.
You'll get both a shared wall and individual calendars, so your staff can see each other's schedules while keeping their calendars separate. With custom rules, you can create workflows, allocate leave limits to departments, and put privacy on the data.
Apsentify works well with third-party applications, such as Slack, ZOHO, Dropbox, and Salesforce.
Core Features
Shared and individual calendars.
Department categorization.
Custom leave policies.
Permission rules.
Approval system.
Microsoft team app.
Third-party integrations.
White labeling.
Price
Apsentify's basic plan is free, and the premium plan costs $25 per month. You'll find the live demo option on the website.
Appogee shares a suite of HR products, among which one is an absence management tool.
The software's key functions are; leave management, data visibility, absence reports, and Google integration.
You can track holidays, approve and decline leave requests, provide TOIL support, and automate the leave carryforward option. Via reports, you can get insights into your employee absences and monitor the trend to make better work schedules.
The app integrates with both Google and Microsoft and delivers a self-service portal for employees. You can add your branding to personalize the look of the dashboard.
Core Features
Dashboard overview.
Leave management.
Custom policies.
Approval requests.
Third-party integrations.
Employee portal.
Reporting.
Price
Appogee charges $1.60 per user for its absence management software. You can combine it with its time-tracking tool for $8.
Leavewizard provides a clean and straightforward holiday planner.
You can create groups to represent departments or teams, appoint approvers to manage leave requests, set up policies or limitations on vacations, and add public holidays.
If you have a hybrid workspace, you can add WFH and hourly time offs in your booking system as well.
Through its centralized dashboard, you can monitor your employees' leave of absence, process time off requests, and track overtime.
You can incorporate a lot of other rules to automate some of your tasks. For instance. You can set a cap on the number of leave people can take, or assign approval authority to multiple members.
Core Features
Vacation, leave, and overtime management.
Permission rules.
Email digest.
Google, Slack, and Microsoft integration.
Reporting.
Mobile app.
Auto-allocation of public holidays.
Price
Leavewizard charges a minimum of £5 per month. You can add up to 500 employees to your plan.
Take a free trial to explore it.
If you're on the lookout for an all-in-one solution, try BrightHR.
It's a shift-based workforce app that helps you manage your staff's leave of absence, overtime, and wages.
You can automatically calculate and incorporate annual leave in your planner and get an overview of the work schedule to ensure there's no gap in the shift due to unexpected time off.
Your employees can request time offs from the software and log extra overs to get compensated in the form of vacations. To make things simple for your team, BrightHR displays annual leave and TOIL balance on their profiles.
With the mobile app, you can update your shift schedule anytime and notify your staff of the changes.
Core Features
Holiday calendar.
Document recording and storage.
Overtime tracker.
Request approvals.
Workflow customization.
Automation.
Recruitment and payroll options.
iOS or Android app.
Price
BrightHR shares custom quotes. Contact sales to get the prices.
SageHR is another good option if you want to handle all your core HR functions in one place, including staff holiday management.
Here, you can create shift schedules, track your employee time, manage time off requests, and set up an approval system. Through Slack or your mobile app, you can view the shared calendar, process your employees' leave requests, and update shifts.
Sage's best feature is price flexibility.
You can buy core HR functions and the leave management software for just $5.5 per user, and remove irrelevant functions from your plan. For instance. If you don't want a recruitment feature but would love a timesheet, you'll only need to pay additional fees for the timesheet option.
Core Features
Core HR functions.
Leave management.
Approval workflows.
Custom policies.
Employee portal.
Reporting and analytics.
Slack integration.
Mobile app.
Price
Sage charges $5.5 per user for its leave management software and $216 for all the functions.
You can try it for free.
Final Word
Staff holiday management software is a tremendous help to organizations that struggle with PTO tracking.
The app cuts down unnecessary workflows and automates most of the processes, creating a clean and digital system that is much easier to manage.
All the above software products have these capabilities, and most can be tailored to fit your company's requirements.
Take free trials to explore these applications.